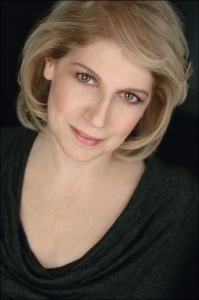 I'm an actor and singer who brings a soft edge to my performances. Can't help it. I've always had this kooky class clown thing happening along with "the responsible one in the band" thing. I'm like your mother, only even crazier.
Mostly, I play loving, but slightly clueless, like on The Onion News Network on IFC, in the films No Direction, Working It Out, and American Daydream. My favorite stage roles, so far, are Bel in Don Nigro's Tristan, who describes herself as "crazy as a basket of rats," and garrulous Lady Markby in Oscar Wilde's An Ideal Husband.
That said, I've had some serious training – at the Barrow Group, Michael Howard and John Strasberg Studios. I've also been privileged to study Shakespeare with Patsy Rodenburg and the Linklater Institute, improv and sketch writing at the Magnet Theatre, and with some awesome on-camera acting teachers, like Jen Krater and Maggie Reed.
I've also got some serious smarts. I got my Masters in Public Policy at Harvard – and I was a Jeopardy contestant. I have played a bureaucrat in real life, which no doubt informed my tough-assed performances in Red Tape as the HR lady, Chancellor Angela Merkel and Cruella DeVil (for College Humor), and the evil Hilary Clinton-y character in Das Racist's brilliant "Michael Jackson" video. Put me behind a desk and I may intimidate you. But you'll probably laugh too.
I love bringing characters to life in new work. Last year, I got to work with Lily Padilla, a promising young playwright, who entrusted me with a character based on her friend, a long-term cancer survivor (she was very eccentric and outspoken – see above). After one performance, Lily's beautiful mother, who had flown in from California, hugged me and thanked me for being so true to the lady her daughter had loved. What more can an actor ask for?
Oh yeah, I haven't explained "the responsible one in the band" thing, have I? Back in the glory days of CBGB's, I played bass and sang in a couple of all-girl bands. I think there's a movie in it, and I am writing the screenplay!
In the meantime, I'd love to collaborate with you to tell your inspiring stories.