Club Review: Susan Neuffer's "An Elpee's Worth of Todd"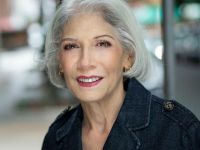 Back in the day, when I became a lifelong fan of singer/songwriter/producer Todd Rundgren, albums were not merely a collection of "pick & choose" streamable tracks. They were an entity unto themselves—an artistic statement in which to immerse oneself, in which to get lost like a good book or a good movie. Each song benefited from being a part of a greater whole. On such albums as Todd, Runt, Something/Anything, and A Wizard and a True Star, Rundgren developed and perfected a distinct voice to rival other more successful and accessible singer/songwriters of the time like Laura Nyro, Carole King, James Taylor, and Jimmy Webb. As both a producer and a pioneering engineer, he held sway on artists like Meat Loaf, Badfinger, Grand Funk Railroad, and others while veering into more edgy, electronic worlds with his group, Utopia. He is still active in the music industry and was inducted into the Rock and Roll Hall of Fame in 2021.
Appropriately, "An Elpee's Worth of Tunes" opens the show with a blast of frantically amusing fun. "Sons of 1984" showcases Neuffer's vocals as her natural, conversational delivery outdoes even Rundgren's and gives a hint of the revelations to come as the show proceeds. "A Long Time, a Long Way to Go" soars with the unexpected romanticism that marked the composer's most known ballads. Neuffer reveals that this song, first heard on a record label "sampler" of new artists, sparked her fascination with, and love for, the songwriter. Her special connection to it, and to all the material, is one of the delights of the show. Echoes of Laura Nyro abound in a lovely medley of "Izzat Love" and "Saving Grace," underlined by the evocative arrangement. Recounting Rundgren's legendary feud with John Lennon, she impressively includes Lennon and McCartney's "Rain" and "We Can Work It Out;" "I Think You Know" is the perfect choice to follow and comment on the Beatles story, and another indication of the intelligently chosen program.
Performed with an entirely appropriate and altogether delightful wink and nod, "Song of the Viking" glories in low-rent Gilbert & Sullivan-isms. It also affords the singer a chance to show off her skills on the flute. Dangling a bit of gossip about the relationship between Rundgren and Patti Smith (as both producer and paramour), Neuffer then sings "Dancing Barefoot" (Smith, from Wave) with such strength and conviction that a future show of Smith's work might be a good idea. "It Takes Two to Tango (This One is for the Girls)" is one of the truly thrilling discoveries of the night, and the combination of stunning instrumentation, infectious vocals with some well-chosen "Sha-la-la's," and Neuffer's expert storytelling, achieve something close to pop perfection. She wrings every bit of humor and self-deprecation out of the medley of "Real Man" and "Heads Up." Some of those laughs I mentioned earlier are provided by lines like, "I always like dragging my knuckles on the ground."
From the depths of obscurity, she resurrects a Christmas song (of sorts) for which Rundgren wrote the English translation. The song, "Flappie" (Youp van't Hek from Romance with Mayonnaise) is filled with skewed innocence and black humor like a tune from the most macabre music box ever made. The closest to a "known" Rundgren song all evening is the closer, "Just One Victory," buoyed by some of the most involved and exciting vocals of the show and dedicated to the coming run-off election in Georgia. Once again adding her flute to the arrangement, the encore "Torch Song" is a beautiful expression of the torch Susan Neuffer has carried for Todd Rundgren since she first heard that sampler, decades ago.
The show is glued together with some entertaining and informative patter that was a bit underserved by Neuffer's tentativeness in delivering it. She should trust herself more to just communicate her enthusiasm for her subject with the success that her singing achieves. As in so many successful tributes, the singer manages to elevate these lesser known, yet wonderful Rundgren songs, to the level of his most famous songs; she gives us a glimpse into the workings of a major artist from a genre not usually included in cabaret, while displaying a pleasing artistry of her own. Everyone involved should be quite proud of An Elpee's Worth of Todd.
Presented at Don't Tell Mama, 343 W. 46th St., NYC, November 12 & 20, 2022.
©bistroawards.com
November 16, 2022
By Gerry Geddes